Fishing Rates 2017
2017
FALL DEER HUNT
$ 2000.00 US Funds per Hunter / 2-3 Hunters Minimum * guests are welcome to bring own boat/s
$1700.00 / hunter / group has 4 members *$200.00 US /night /Cabin #1 / sleeps up to 8 people
$ 1500.00 / hunter / group of 5 or more members * Cabin #2 / sleeps 3-5 guests
Includes: Hunt for 6 full day's / 7 nights *Boat rentals = $175.00 US/ Day / 5 gallons gas
* Bring your own food. Full kitchenette depth finder / live well/ all safety gear
* 2 walleye suppers provided ! 18-19 foot /with 4 stroke outboard with tiller handle
*guide & stand placement, boat's, motor, gas * Charter Boat = $450.00 / Daily = (up to 4 fisherman)
* assist in field dress/animal, transport. Deliver to freezer.
* Baited hunt sites but scouting is common method we use
*A deposit of $ 500.00 US/ person is required / bookings
* tag out early & fish, small game, wolf, bear hunt combination
* licensing cost for deer, other game hunting/fishing not included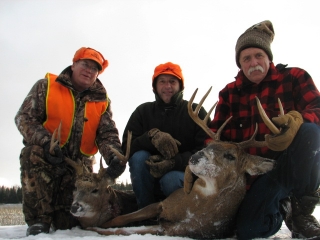 WOLF HUNT 2017
$2000.00 US per hunter / 6 day hunt / baited /Prime coat /Winter Hunt
Ontario Wolf Hunting License Cost
Non-resident license to hunt wolf (small game): CDN$93.27
Wolf/Coyote game seal: CDN$245.32
CITES Permit to export wolf: Free of charge
Canadian Goods and Services Tax (GST): 5%
Ontario Provincial Sales Tax (PST): 8%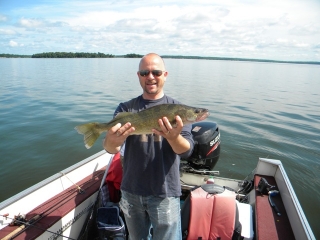 Bear Hunt 2017
2-3 hunters Minimum : $ 1600.00 US Funds per Person
4 hunters or more : $ 1450.00 US Fund's per Person
5 hunters or more : $1400.00 US per Person
Includes : * 5-6 full day's of hunting / 6-7 night stay
* accommodation/cabin
* Guide, & stand placement, baiting, boat, motor, gas for hunt
* Deliver to locker / freezer
* FALL HUNT _ Season opens AUGUST 15, Runs through till October 30.
* fishing or small game hunting optional
For shuttle service from International Fall's airport. www.northairtaxi.com
Currency Conversion www.xe.com/ucc
Waterfowl Hunt 2017
$500.00 US per day /guide & boat…..$200.00 US/ night accommodations
Based on a group of 2 hunters
additional boat rental $175.00 US day
Week long or a minimum 3 days
Hunt the wee hour of the morning till the last light of the day
Cabin/s, boats, gas, guide and some fantastic mid-day fall fishing
Decoys and other hunting & fishing equipment available.
FISHING TRIP CABIN RENTAL —— $200.00 US per night. BOAT RENTALS —— $175.00 per day
– You are more than welcome to bring your own boat
– Charter Boat = $450.00 US/ Daily = (up to 2-4 fisherman)
– An OUTSTANDING SHORELUNCH available at request
CALL US TO BOOK YOUR FISHING VACATION 1-807-484-2969