A u l n e a u P e n i n s u l a D e e r H u n t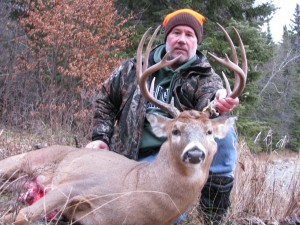 We offer new comfortable lodging on the south-eastern portion of Ontario's Aulneau Peninsula. 612 square miles of prime whitetailed deer hunting habitat that consistantely produces bucks averaging 225-250 pounds in weight with antlers 130 -140 inches as minimum potential shooter deer.
Provided scouting ability with over 35 years of experience to our specific area's.
We have taken bucks in the 180 inch gross score range and I am sure there are some still out there that have never seen a human. Keep in mind that a trophy buck is
with-in your means while hunting with us.
Our camp access point is crucial and combined with over 30 years of experience trapping, hunting and guiding this vast area our guests success rate remains high.
From the Whitetail Rut, Waterfowl Migration, earlier season Black Bear hunts to the Upland Grouse hunts. Combining some fantastic fall fishing is always a great option after a successful hunt.
We have exclusive hunting access to certain land masses that we are able to conduct guided deer, wolf and bear hunts.
For 2017 season we will be hunting our larger clear cut adjacent to our private lands.
(Over 12,000 Square acres of our Private land) Sections of the Aulneau Peninsula (WMU 7A)which are bow and muzzle loader hunts only, are part of these lands. As well sections of hunting zones WMU 7B-9A (rifle hunts) are exclusive to our guide service.
This means no other hunters in the local Nestor Falls / Sioux Narrows /Morson / Lake of the Wood's area will hunt our area's.
Hunt with us and you will not bump into other hunter's. Wolves, bears and other critters are can be seen from regularly through the territory.
Our area yields Boone & Crocket Trophy Buck every year.
Our primary method of hunting is still hunting from ground blinds and weather permitting, ladder stands.
Also guided pushing can be in order on that warm day when the deer don't move.
Come & share your Whitetailed Deer Hunting Passion!
2017 FALL DEER HUNT
$ 2000.00 US Fund's 2-3 Hunters Minimum
$1800.00 / hunter / group has 4 members
$ 1500.00 / hunter / group of 5 or more members

Includes: Hunt for 6 full day's / 7 nights * Bring your own food. Full kitchenette * 2 walleye suppers provided *guide & stand placement and bait's, boat's, motor, gas FREE RANGE HUNT * Baited hunt sites /ladder stands and ground blinds provided

*A deposit of $ 500.00/ person is required / bookings

* tag out early & fish, small game, wolf, bear hunt combination * licensing cost for deer, other game hunting/fishing not included
GIVE US A CALL TO PLAN YOUR HUNT 1-807-484-2969
Taking Bookings For 2017 Hunt